REVIEWS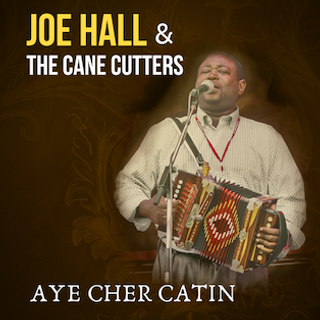 Aye Cher Catin - Fruge Records
OFFBEAT MAGAZINE, New Orleans
Joe Hall & the Cane Cutters' Aye Cher Catin is the group's third official offering on the Michigan-based Fruge Records that is coincidentally helmed by Cane Cutters' guitarist Mark Palms. But unlike Hall's previous releases on Fruge Records, this one benefitted by being recorded at Palms' Michigan studio, alleviating the need to lug recording equipment to South Louisiana as in the past. Given the luxury of added, unhurried time, these eight tracks could be the finest yet recorded by the husky-voiced Creole powerhouse accordionist, who plays with incredible ornamentation.  
The proceedings practically explode out of the chute with "Un Jour Avnir Tu Vas Souffert," and Hall's own road cruiser concoction "Between Eunice & Mamou." Interestingly, the latter features a couple of breakdowns where the rhythm section drops out, leaving Hall and fiddler Marshall Baker to play the intricate melody in unison. Eventually, Palms joins in with his nimble finger picking, floating across the strings like a ballerina. Forest Huval also plays twin fiddles with Baker.
Propelled by Paul Lavan's whipping snare and Carol Palms' unifying acoustic bass plucking, Hall salutes his heroes on several tracks. "Creole Medley" strings together "Soileau Two-Step," "Zydeco Gris Gris," and "Shoe Fly" into a tip of the hat to Carlton Frank, "Bois Sec" Ardoin, and Freeman Fontenot, respectively. The melodic "Un Jour Avnir Tu Vas Souffert" comes from the recently departed Nolton Semien, while the title track was a tune of grandfather Clement "King" Ned, who was recorded by the Library of Congress. Hall maybe taking throwback Creole music to new heights, but only with the realization he's part of a proud, rich tradition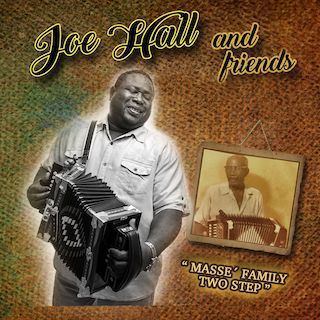 Masse Two Step - Fruge Records
Offbeat Magazine, New Orleans
What Joe Hall is the most proud of on this project, his first CD since 2011, are not his own performances per se but his grandfather Clement "King" Ned's solo rendering of "Le Valse De Samedi Apres Midi" which was recorded by Library of Congress folklorist Ralph Rinzler in 1965. After lying dormant for decades, it only now makes its public debut and reveals Ned's raw talent, explosive vocals and masterful accordion playing. "I'm also proud of the "Massé Family Two Step" because I descend from the slaves and slave owners of the Massé Family who are documented as the first free family of color in Southwest Louisiana,' Hall explains.
Built on a foundation of a wiggly, infectious riff, Hall's epic "Grand Prairie Blues" references the locale of many of his farming ancestors. Several selections salute Creole music patriarchs Canray Fontenot and "Bois Sec" Ardoin but it's important to realize Hall's music sees no color, especially considering the joyous Cajun fiddle duets led by fellow kindred spirit Forest Huval.
While Hall's accordion technique is impeccable with quick, sharp accents, Carol Palms' acoustic string bass adds a hefty punch to the already motoring arrangements. Ned's track isn't the only thing unveiled here. "Nu Nu Breakdown," a rousing 2013 live recording, features Christine Balfa (guitar) and the late Al Berard (fiddle). If there is a theme to these proceedings, it's the cultural ties and people Hall cherishes the most.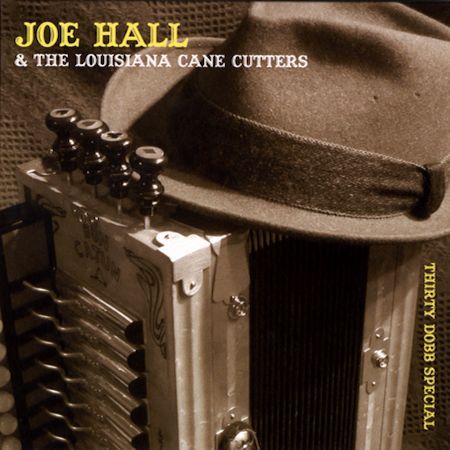 Thirty Dobb Special - Fruge Records
Offbeat Magazine, New Orleans
Joe Hall and the Louisiana Cane Cutters' last album, 2009's Live at Nunu's, was a show of brute force as the band raged through an amped-up set of Creole-Cajun chestnuts. Hall doesn't play quite the same hand this time but deals something closer to the heart: a tribute to grandfather "King" Ned. The hard-charging title track emanates from an untitled melody of Ned's; the cover shot of the accordion and Dobb hat is symbolic of how the venerable accordionist often wore the stylish lid at gigs.
With Mitch Reed's slippery, sublime Creole fiddling squealing across the high notes, the proceedings skew towards old-time Creole music. A few selections—such as "Carrière Brothers Breakdown" featuring Chas Justus' tender, prancing acoustic guitar accompaniment—feel like an updated version of the first generation Lawtell Playboys. Hall supplements the antiquated ambience with various cultural artifacts such as syrup cakes ("Mas Pain Bruler") and keeps the surprises rolling by unearthing such country crossover Creole chestnuts as Al Dexter's "Pistol Packin' Mama" and the Delmore Brothers' "Blues Stay Away From Me" that's rendered as one fat, lazy shuffle.
Hall is a powerful singer and accordionist, and even though the 11 cuts hail from two different studios and three tracks captured live, he makes it feel like a single session. Though Hall may be years away from becoming a cultural hall of famer, this recording, nonetheless, is a classic hallmark affair.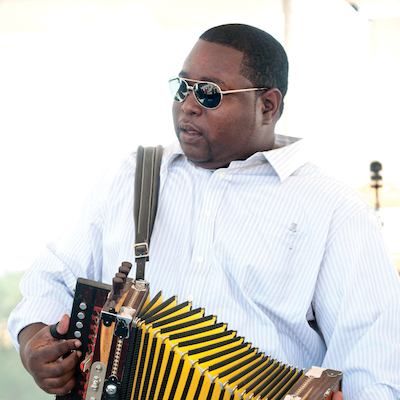 JAZZ FEST FOCUS
JOE HALL
"We're gonna tear it up," Joe Hall says. It's not a Charlie Sheen rant, but it's obvious that the burly Creole accordionist is pumped up about this year's Jazz Fest. Hall and his Louisiana Cane Cutters are releasing their fifth CD, The $30 Dobb, which should further establish them as worthy practitioners of Creole music. Not quite zydeco, as it's often confused with, Hall's brand of dance music is best described as amped-up Creole la-la, the precursor to zydeco. (Unlike zydeco, Creole la-la features a fiddle in the lineup.)
The track that will turn the most heads will be "Pistol Packing Mama." Country music buffs will recognize it as Al Dexter's 1943 million-selling hit, but the song's immense popularity enabled it to cross over and become a staple in the Creole repertoire. "Only the real [Creole accordion players] know that the old timers played 'Pistol Packin' Mama,'" says Hall.
Through his grandfather, "King" Ned, Hall inherited a love for the accordion, playing his grandpa's whenever he was away. By the time Ned discovered that Hall had been tinkering with his instrument, the grandson had become surprisingly proficient. From there, Hall paid regular visits to the elder statesmen of Creole music, such as "Bois Sec" Ardoin, Canray Fontenot, Carlton Frank and Calvin Carrière, to learn and play tunes. Surprised to see such a young person with a rabid interest, Carlton Frank invited his brother Paul to meet Hall. "'If you stay the way you are and don't let nobody change you,'" Hall recalls Paul saying, "'then one day the world is going to know about you.'
"There was nothing hot rod about [my playing]," says Hall. "It was unique then, being a young man knowing the songs that I knew."
Hall even jammed with the late Boozoo Chavis, who said, "'If you are going to do it, make the people like the way you do it. You can't go out there and imitate me; then all you can be is somebody imitating somebody. People will dance, but you'll never find yourself.'
"And I think at this point," Hall's says, "I've found myself. If I had been playing just like everybody else, then I would never have found it."